Safety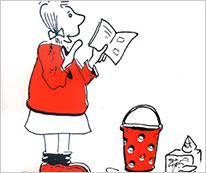 Carefully, read the instructions written on each article or packing. Prepare yourself a first aid for example a bucket of water.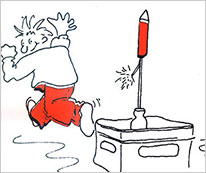 Rockets must be shot from a case filled with empty bottles; place the rocket vertical into the empty bottle, take off the safety-device, check the wind direction, light the burning fuse and immediately step away.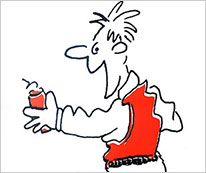 Rockets, crackers and bangers should not be fired in or out of your hands! You have to light all the articles with stretched arms, throw them away immediately and step away to the safe distance.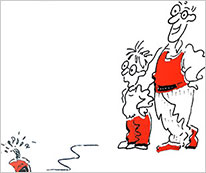 Bangers with fuse head you have to pull along the match box and throw away. Do not throw them on or among people. Big bangers have to be lightened on the ground and supervised from a safe distance. Bangers don't belong in pockets!
Fireworks which have to be lightened on the ground such as fountains, volcanoes, sons, etc., should be lightened only outdoor. These articles should be put on the ground or fixed on a garden fence. Never light these articles while held in hand or in the nearness of inflamable objects.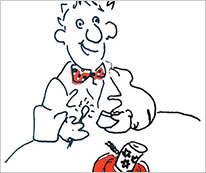 Indoor fireworks such as table bombs, cake fountains, party bombs, etc., should be lightened only on noninflamable groundwork.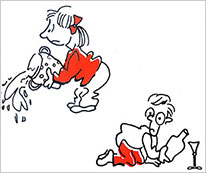 Hands away from pyrotechnical articles after drinking alchohol. Also home-made pyrotechnic products are dangerous. Rockets and bangers that didn't go off mustn't be lightened again! For safety reasons you better put them out additionally.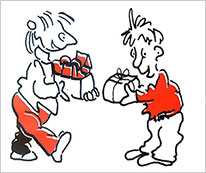 Bangers and rockets are safely put away only in their own original packings, which means: do not take them out of the boxes before use! You should take out of the box only one article at the time and then close the box again.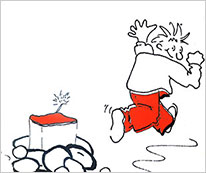 Multishots cakes must be put on a flat smooth groundwork and protected from falling down. They must be burried in the ground and coated, for instance with brick or larger rocks. Never bend over the product. If the fireworks stop, lighting don't light it again.